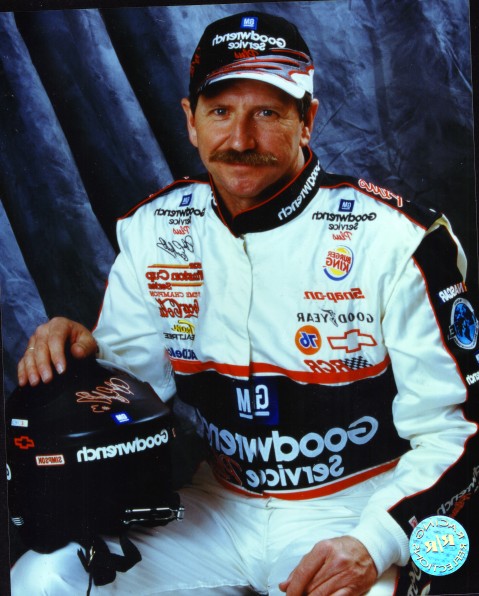 ONE QUARTER MILE FROM HEAVEN

Author Unknown

Like a guardian angel from four cars back,
Watching Michael & Dale Jr. as they circled the track.
No intention of winning, just holding his place,
So proud of his "boys" now winning the race.
We though it was over, the end was so near.
No time for pain; no time for fear.
We did not know, as there was no sign,
Dale was only one-quarter mile from his final finish line.
Within an instant, NASCAR fans would be facing,
An eternal change in their world of racing.
He was one of the greatest; beloved in his sport,
With a grand career now sadly cut short.
All the crowd noticed was excitement and debris,
But a miracle was happening we could not see.
Dale said goodbye through shining metal and chrome,
As God gave "NUMBER 3" the checkered flag "home".
But forever in our hearts, and in the scheme of things,
We'll picture him circling heaven with black and red wings.
Grinning; telling angels..and even the Creator,
"Look out over there...here comes the "INTIMIDATOR".



Dale Earnhardt Picture Galleries
Picture Gallery 1
Picture Gallery 2
Picture Gallery 3
Picture Gallery 4
Career Statistics

Career Pole Positions: 22
Career top 5 finishes: 268
Career top 10 finishes: 404
American Driver of the Year: 2 (1987, 1994)
IROC Championships: 3 (1990, 1995, 1999)
Winston Cup Championships: 7 (1980, 1986, 1987, 1990, 1991, 1993, 1994)
Won record nine races at Talladega Superspeedway
Owns record 34 victories in all forms of racing at Daytona Speedway


Career Achievements

1975: Made stock-car racing debut May 25, finishing 22nd in the World 600 at Charlotte Motor Speedway
1979: Earned first victory on April 1 at Bristol, Tenn; Won Rookie of the Year Award
1980: Won first Winston Cup Championship, becoming only driver to win Rookie of the Year and season championship back-to-back
1986: Won five races to take second Winston Cup Championship
1987: Won 11 races for third Winston Cup Championship, finishing in top five 21 times in 29 races
1990: Won nine times to take fourth Winston Cup Championship, earning a then-record $3,083,056
1991: Won four races for fifth Winston Cup Championship
1993: Won six races to earn sixth Winston Cup Championship
1994: Won seventh Winston Cup Championship, tying Richard Petty for most career titles. Topped $3-million mark in earnings for third time in five years
1996: Became third driver to start 500 consecutive Winston Cup races
1997: Became first driver to reach $30 million in American Motor Sports winnings and first race car driver to appear on box of Wheaties Cereal
1998: Won first Daytona 500 in 20th career start, breaking a 59-race winless streak overall. Finished eighth in season standings, his 18th top 10 finish in 20 years
1999: Won 10th consecutive Twin 125 qualifying race at Daytona
2000: Won Winston 500 on Oct. 15 at Talladega Superspeedway for final career victory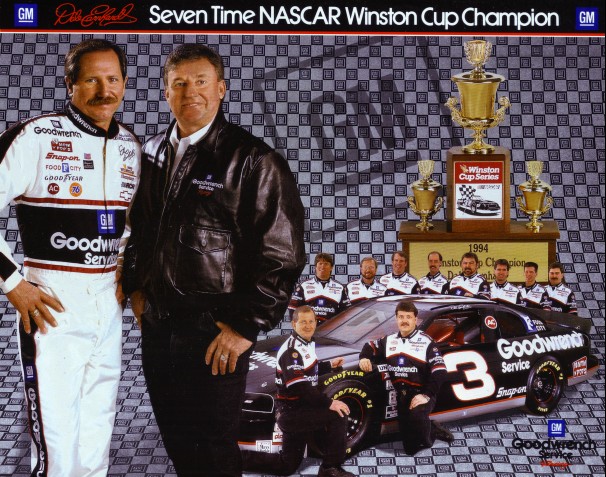 Back To Main Page